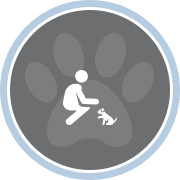 Professional Puppy Training Columbus Ohio
Get Your Puppy Started on the Right Paw
The Best Behavior School For Your Puppy
Our fun, treat-based professional program will help your puppy discover their love of working with you.
Ready or not, puppy training begins as soon as you bring your new puppy home. Our program helps you and your dog establish a firm foundation for raising a well-behaved member of the family.
When training a puppy, it is crucial to start early. Dogs begin to form their own attitudes between the ages of 8 and 14 weeks, and behaviors learned during this period can last a lifetime. Our professional trainers have years of experience helping local dog owners with their puppies. Not only do we train them from the beginning, but we are also here as a lifelong support system to help with any behavioral changes down the road.
Puppy Preschool is Waiting
Our treat-based training approach rewards your puppy for paying attention and performing simple tasks upon command. This will teach them to respond to your voice, recognize commands, and engage the appropriate behavior. Early skills learned at Marcum K9 Obedience will shape your puppy into the dog your family will grow with and love for years to come. Ready to start? Contact us today and we will start with a free consultation done by one of our expert, caring trainers.
Our Dog Training Videos
Here are some examples of the techniques our Columbus area dog trainers use with puppies just like yours!
The Marcum K9 Training Process
Our expert dog trainers in central Ohio will successfully correct behavioral issues such as jumping, leash pulling, setting boundaries, listening, potty training and more.
Schedule a Consultation
During your Consultation, one of our dog trainers will meet with you and your pooch at our in-home training facility in Canal Winchester, Ohio. We'll assess your dog's level of obedience, get to know their behavior and speak with you about your goals.
Create a Program
Every dog is different. Based on your goals and your dog's needs, we'll devise a training plan that will quickly and effectively transform your dog into the well-behaved, attentive, and calm companion you've always wanted.
Dog & Owner Training
Whether you choose board & train, group training, or a private training session, our trainers will treat your dog as if it were their own, and will instruct you on how to use trigger words and how to control your voice to assert your authority.
Maintain Your Training
At the end of the training program, your dog will be a Marcum K9 graduate. How they use their training depends on how well you maintain what we've taught them AND you. If you have any questions or concerns, please contact us anytime.
Reviews from Columbus Area Dog Owners
We love hearing about how our dog training programs have changed our clients' lives.
We love getting feedback from our customers! Reviews on Google and Facebook not only make us feel good about the work we do for your family, but they give other dog owners peace of mind about coming to train with the Marcum K9 team. When you are happy with the strong bond you have with your dog, share that with us by leaving a review!
We work with dogs and families across Central Ohio including Bexley, Grandview, New Albany, Upper Arlington, Worthington, Hilliard, Powell, Pickerington, Canal Winchester, and more! Fill out our inquiry form to schedule your free consultation and to learn more about our training programs.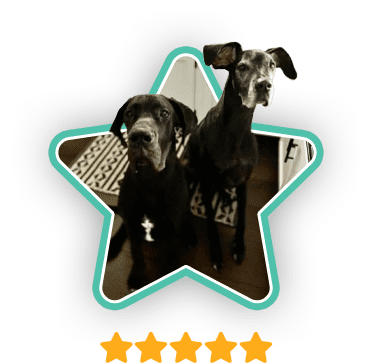 "We sent both of our Danes to Marcum K9. Two Danes, and two completely different dogs. One was six and our sweet little old lady. The other was 9 months old and a wild child. Garrett did an amazing job with both of them and the changes have been remarkable. Garrett has followed up with us multiple times after their training and has responded quickly with any questions/concerns that my wife and I have had over the months since the training. I would highly recommend Marcum K9 and Garrett. The best money we have ever spent."
– Nate Will
What is the age limit or best age for puppy training lessons?
Puppy training starts at 8 weeks starting with puppy lessons and goes until they are 6 months with the puppy program. After 6 months, dogs are capable of completing advanced training. Our trainers have years of experience helping puppies turn into well-mannered, attentive dogs. Read our reviews to hear from more dog owners just like you!
How can I expect my puppy to behave after training?
Through our course, your puppy will be attentive and well-mannered. During our training and evaluation program, we will ensure that all dogs that come to Marcum have the best results. Each class has been specifically designed by our Columbus area dog professionals.
Will my puppy need more private training later?
The way our school is designed it sets the dog up for life, and all trainers are with you for lifetime support after program completion. We know that every dog is different, which is why we are here for any need you may have in the future! Contact us today for more information.
Are there certain breeds that need more professional puppy training?
It's not certain breeds that need more training, but what you will be using your dog for. For instance, if you have working dogs, therapy dogs, or service dogs, they may need more training and boarding due to the nature of their work.
How long is puppy training class?
It will depend on your specific puppy, but our professional dog training can take anywhere from 5-15 days. We do our best to work with every puppy and learn more about them, which helps us train them better and have them be the best, well-mannered dogs you could ask for.