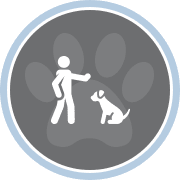 Dog Board & Training Classes Columbus Ohio
Make a Lasting Impact With Our Board & Train Programs
Dogs Learn By Repetition
Your dog will be trained at our in-house training facility in central Ohio while facing everyday distractions.
We've all seen dogs in movies that are incredibly talented and smart. Or gorgeous, well-behaved show dogs that strut and sit on command. And what about the brave police and military dogs that help keep everyone safe? These pups all have one thing in common: they're all professionally trained.
So how do you teach your dog to behave, perform and comprehend commands? It's all about consistency and repetition, and the phrase, "Practice Makes Perfect!" applies to dogs as much as it does to human beings.
It takes between 30 to 60 repetitions for a dog to grasp the concept of behavior for reward. Once we establish this baseline, we gradually increase distractions, difficulties, and timing, until your dog learns to maintain focus on any task at hand.
When you sign your dog up for one of our Board and Train programs, Marcum K9 Obedience experts will work around the clock on repetitive conditioning at our in-house training facility in Canal Winchester, Ohio. Your dog will encounter repeated scenarios that teach discipline and obedience, no matter the activity, distraction, or command.
Take a Peek at How We Do It!
Take a look at the dog training style and techniques we use to train your pup.
The Marcum K9 Training Process
Our expert dog trainers in central Ohio will successfully correct behavioral issues such as jumping, leash pulling, setting boundaries, listening, potty training and more.
Schedule a Consultation
During your Consultation, one of our dog trainers will meet with you and your pooch at our in-home training facility in Canal Winchester, Ohio. We'll assess your dog's level of obedience, get to know their behavior and speak with you about your goals.
Create a Program
Every dog is different. Based on your goals and your dog's needs, we'll devise a training plan that will quickly and effectively transform your dog into the well-behaved, attentive, and calm companion you've always wanted.
Dog & Owner Training
Whether you choose board & train, group training, or a private training session, our trainers will treat your dog as if it were their own, and will instruct you on how to use trigger words and how to control your voice to assert your authority.
Maintain Your Training
At the end of the training program, your dog will be a Marcum K9 graduate. How they use their training depends on how well you maintain what we've taught them AND you. If you have any questions or concerns, please contact us anytime.
Reviews from Columbus Area Dog Owners
We love hearing about how our dog training programs have changed our clients' lives.
We love getting feedback from our customers! Reviews on Google and Facebook not only make us feel good about the work we do for your family, but they give other dog owners peace of mind about coming to train with the Marcum K9 team. When you are happy with the strong bond you have with your dog, share that with us by leaving a review!
We work with dogs and families across Central Ohio including Bexley, Grandview, New Albany, Upper Arlington, Worthington, Hilliard, Powell, Pickerington, Canal Winchester, and more! Fill out our inquiry form to schedule your free consultation and to learn more about our training programs.
I researched quite a few trainers in Columbus before I finally settled on Marcum. Allison has done a fantastic job building this program and it shows from the moment you walk in the door. The in-home boarding, personalized training program, and promise of daily updates are what sold me. Garrett did such an AMAZING job with my Doberman, Dino. He now has impeccable manners and is fully on and off leash reliable, which is quite impressive for being a 9 month old pup.
The training Dino received at Marcum is more than just learning some commands— the mindset shift I've seen in him is the most impressive change. He has self control, respect, and my ability to communicate with him has drastically improved. Garrett was great about giving me updates, answering my questions, and teaching me all about the training Dino received at our follow up lessons. Not all trainers are created equal, and my experience with Garrett, Allison and the rest of the Marcum staff have proved just that. We are so thankful to have found them!
– Leah & Dino