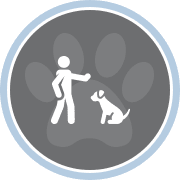 Dog Board & Training Classes Columbus Ohio
Make a Lasting Impact With Our Board & Train Programs
Dogs Learn By Repetition
Your dog will be trained at our in-house training facility in central Ohio while facing every day distractions.
We all see dogs in movies that are incredibly smart and do things that the typical pet wouldn't even dream of doing. There are those gorgeous, well-behaved show dogs that strut their stuff for the judges. And, let's not forget the brave police and military dogs that help keep us safe… All these dogs have one thing in common; they're all professionally trained to perform their abilities.
You may wonder how dog trainers achieve success in teaching dogs to behave, react, perform, and comprehend commands. It's all about being consistent and repetitive. We've all heard the phrase, "Practice Makes Perfect!", and it applies to dogs just as much as it does to humans.
How many times should you have to repeat the same command to your dog? Well, it's been proven that it takes between 30 to 60 repetitions for a dog to grasp the concept of behavior for reward. However, this is just the first phase of dog training. You'll gradually want to amp up distractions, increased timing, added difficulties, and so on to ensure your dogs ability to focus on the task at hand.
At one of our dog board and training programs, the trainers at Marcum K9 Obedience will work with your dog in a repetitive training program at our in-house training facility in Canal Winchester, Ohio. Your dog will face distractions and other obstacles that will help them learn to focus on what they're supposed to be doing at all times.
Take a Peak at How We Do It!
Take a look at the dog training style and techniques we use to train your pup.
The Marcum K9 Process
Our expert dog trainers in central Ohio will successfully correct behavioral issues such as jumping, leash pulling, setting boundaries, listening, potty training and more.
Schedule a Consultation
During your Consultation, one of our dog trainers will meet with you and your pooch at our in-home training facility in Canal Winchester, Ohio. We'll assess your dogs level of obedience, get to know their behavior and speak with you about your goals.
Create a Program
Every dog is different. Based on your goals and your dog's needs, we'll devise a training plan that will quickly and effectively transform your dog into the well-behaved, attentive, and calm companion you've always wanted.
Dog & Owner Training
Whether you choose board & train, group training, or a private training session, our trainers will treat your dog as if it were their own, and will instruct you on how to use trigger words and how to control your voice to assert your authority.
Maintain Your Training
At the end of the training program, your dog will be a Marcum K9 graduate. How they use their training depends on how well you maintain what we've taught them AND you. If you have any questions or concerns, please contact us anytime.
Dog Gone Good Reviews
We love hearing about how our dog training programs have changed our clients' lives.
The team at Marcum K9 Obedience love receiving messages and reviews from our customers. Reviews on Google and Facebook not only makes us feel good about what we're doing for you and your family, but it also gives other dog owners peace of mind that should they bring their dog to us for training, that their furry family member will be in good hands and get the proper training they need.
I cannot thank the ladies at Marcum K9 enough. Because of their work with our sweet boy Gil, we were able to keep our little family intact! Gil was an anxious wreck when we brought our infant son home for the first time. He would jump, whine, bark and stop listening to all commands because of his nervous state. We couldn't have our son and our dog in the same room for fear of Gil accidentally hurting the baby while he was showing so much excited energy. After a 5 day board and train, Gil came back to us a changed dog! He is more confident and listens SO well, no matter what the distraction is. He is calm and allows us to be in control (something we have struggled with since he was a baby!). I cannot thank Marcum K9 enough for the work they did with our precious boy and with us. Our family is complete!
– Kristen & Gil