Professional Dog Training Columbus Ohio
Our Training Graduates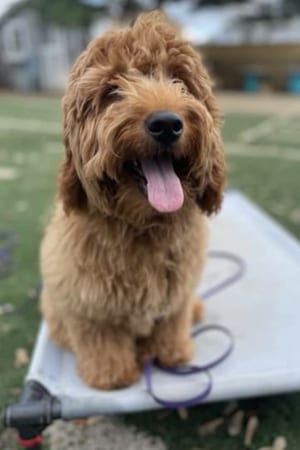 Oliver
Miniature Goldendoodle
4 Months
15-Day Split
My miniature Goldendoodle, Oliver, just completed his first 5 of 15 days with Marcum and I am already blown away! It feels like we brought home a completely different puppy but in all the best ways. His trainer, Jourdan, has been absolutely AMAZING! She sent pictures, videos, and updates every single day. She has also went above and beyond by providing additional information on topics we had questions about (ie food choices, spaying, and various other topics). If you are wondering if sending your pup is worth the price I highly encourage you to take the leap and let them show you just how worth it it is. I cannot wait to see the progress Ollie makes in his last 10 days! — with  Jourdan Niemiec.
Kelsey Swackhamer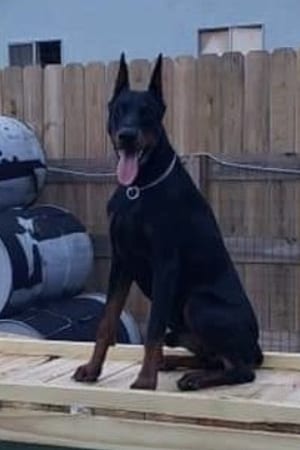 Dino
Doberman
Age: 9 Months
I researched quite a few trainers in Columbus before I finally settled on Marcum. Allison has done a fantastic job building this program and it shows from the moment you walk in the door. The in-home boarding, personalized training program, and promise of daily updates are what sold me. Garrett did such an AMAZING job with my Doberman, Dino. He now has impeccable manners and is fully on and off leash reliable, which is quite impressive for being a 9 month old pup. The training Dino received at Marcum is more than just learning some commands— the mindset shift I've seen in him is the most impressive change. He has self control, respect, and my ability to communicate with him has drastically improved. Garrett was great about giving me updates, answering my questions, and teaching me all about the training Dino received at our follow up lessons. Not all trainers are created equal, and my experience with Garrett, Allison and the rest of the Marcum staff have proved just that. We are so thankful to have found them!
Leah Z
Nate W
2 Great Danes
6 Years & 9 Months
15 Day Program
We sent both of our Danes to Marcum K9. Two Danes, and two completely different dogs. One was six and our sweet little old lady. The other was 9 months old and a wild child  
  Garrett did amazing job with both of them and the changes have been remarkable. Garrett has followed up with us multiple times after their training and has responded quickly with any questions/concerns that my wife and I have had over the months since training. I would highly recommend Marcum K9 and Garrett. The best money we have ever spent.
Nate W
Rosie
Golden Retriever
9 Months
10 Day Program
Game 👏🏻 Changer 👏🏻
Our 5 month old Rosie knew some basic commands, but we wanted to send her to obedience school to focus on controlling excitement with distractions (on and off leash), selective listening, and jumping. WOW. It's been a little over a week and we now can play outside with our kids, with other kids and dogs running around our neighborhood, with Rosie being off the leash and enjoying our time outside. We were sent home after an hour session with our trainer learning and practicing, with homework and tips as well as the offer to text or call if we ever have questions once we got home. We are more than happy and can't thank Marcum and Jourdan enough!
Valerie L
Boss
Rottweiler
1 1/2 Year
20 Day Program
Wow where do I begin.. We sent our 1 1/2year old Rottweiler to Marcum and all I can say is THANK YOU! Our baby boy began to show signs of severe aggression and lack of obedience. We were recommended to do the 20 day program which we jumped right onboard with. Once training ended we legit had a brand new dog, had he not been excited to see me I would have been convinced he didn't belong to us. He came back transformed with such a short turn around. He has begun to regain his trust in us as confident dog owners. This transformation was one that I could have only imagined. Before sending my baby away I was so stressed daily with his constant behavioral issues, walking him was a nightmare and having company rarely existed. As of today his walks are so structured, and now I can feel more relaxed when having visitors in our home. As we continue down this road to correct I am want to thank the Marcum team for their outstanding work and dedication to get our Boss baby on the path to corrected behavior. Hands down the greatest investment I could have made!
Robyn D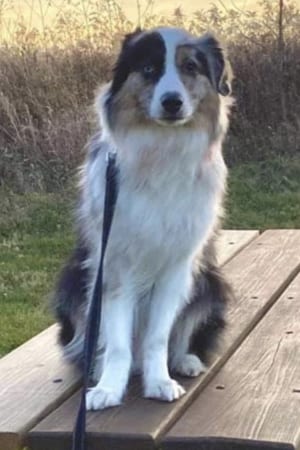 Gunner
Australian Shepherd
1 Year
15 Day Program
If you're on the fence about Marcum, I hope this review helps you. I was skeptical about board and train because I felt like I had the most stubborn dog on the planet and there was no way anyone could get him to listen. Fast forward to 20 days later and I am in awe at how much Gunner has changed. Sierra and Garrett turned my anxious dog into a confident one! Gunner used to bark at the slightest noise, beg during every meal, counter surfed, had 0 door manners, and pulled me during our walks. He's now the most obedient dog and I can't thank Marcum enough for improving both our quality of life! I appreciate Marcum for giving me daily updates during his training and giving us a packet of activities/homework to do so we can reinforce everything he's learned. Great job Team and Keep up the good work! ☺️
Gen M
Sierra has helped us so much with our pup! The plan is service training, and so it was important for us to have a strong start with our rescue mutt. Not only did she train the dog – she trained us (which, let's be honest, we are really who needed it) on how to help our pup succeed. I really appreciate that she took the time to do a follow up train and has checked in to make sure we are still doing ok. We are, and it's because of Marcum! Our dog can place anywhere, hold a sit, and walk right at our side!
Emily E
Gabby
German Shepherd
6 Months
15 Day Program
The board and training through Marcum K9 Obedience is worth every penny. We dropped our 6 month old girl off when we went on a vacation and we came back to a new pup! She had so much energy and loved to jump and nip to get attention for play. Now she listens immediately, shows interest in practicing her new skills and has learned to control her excitement. Marcum K9 provided us with all of the learning tools and direction we will ever need. I received around 3 pics and a video each day with a little summary of what they worked on. We could tell how happy Gabby was just looking at the pictures that were sent. The best thing was Gabby was introduced to their dog pack and she now acts so mature – I can only imagine she picked that up while there. Marcum K9 will furrever be our go-to!
Celina M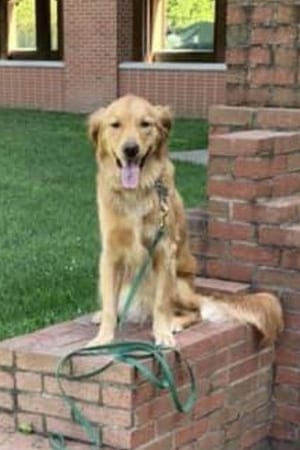 Maggie
Golden Retriever
1 Year
10 Day Program
I can't say enough great things about Marcum K9 Obedience! From the daily pupdates to the doggy spa day for my girl to the amazing training she received, they are all phenomenal! Huge shout out to the Sierras (Sierra Hamilton and Sierra Trimble) for taking such good care of my Maggie! ❤️ We went on our first walk tonight after her 10 day board and train and she is so much more well behaved (no leash pulling or jumping or trying to run away). She's still my loving, silly girl but with manners and control.
If you're looking for a dog trainer, I HIGHLY recommend Allison and her team! You and your dog won't regret it! 🐶
Cali
German Shepherd
Age: 1 Year
15-Day Board & Train
I can't praise or thank Marcum K9 enough. My 1 year old German Shepherd would not listen to me in distracting environments and she was reactive toward other dogs (non stop pulling me and barking at dogs on walks etc). I got her when she was 8 months old and she wasn't socialized as a puppy. They worked with her at her 15 day board and train and sent me daily updates. They also made a training schedule that took into account that she has soreness sometime in her back right hip (the vet checked it out and we aren't sure what is wrong but she got the clear from a vet). I bought Cali home today and she is a whole new obedient dog. The back yard at my house isn't completely closed off and the garage is detach behind to the side of the house. Cali was off her chain and heard a dog walking. She jogged a little down the drive way and I was like Cali sit and she sat and stayed! Didn't care this guys was walking two dogs. I'm so proud of Cali and I can't thank Marcum K9 enough. I highly recommend them no matter what type of dog you have!
Katharina Z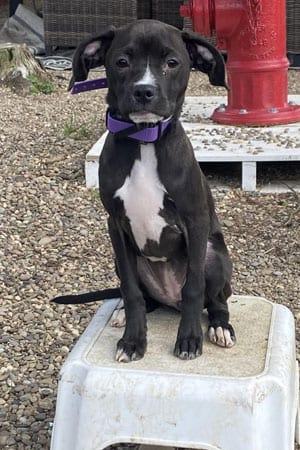 Lexie
Pitbull Chihuahua Mix
Age: 4 Months
5-Day Board & Train
Allison was fantastic with our sweet girl Lexi who is 4 months old. She did the 5 day board and train and we are so happy with her progress in such a short amount of time. Lexi was a jumper and biter (especially with my poor daughter). She has been home 1 day and I already see a major difference. She is listening to us so much more. Of course we need to keep up with the commands so she doesn't forget, but without Marcum K9 things probably wouldn't have gotten better for a long time. I would highly recommend Marcum K9 to anyone who has a dog that needs extra special attention. They truly love what they do and the dogs learn so much!–
One Happy Customer
Mila
Dogo Argentino
Age: 1 Year
15-Day Board & Train
This is our Baby Girl Milagro aka "Mila" She is a very smart, sweet Dogo Argentino that had bad anxiety and fear of strangers and other animals. We were at our breaking point with her and thought we had no where else to turn. My husband then came across this site and told me about it, so we began watching all the videos. I said there is no way Mila will tolerate that, let alone be calm around other dogs/people. So we decided to go and speak to Allison because what did we have to lose? After being there for 10 mins I knew this was the best possible option not only for our Mila, but us as well. I will admit, she is my baby and I wasn't sure if I could go 15 days with out her and almost backed out. My husband of course did not agree and so we dropped our baby off for the 15 day board and train and let me tell you, the change in her is unbelievable as you see in these videos. She is 100% a different dog with more confidence, little to no fear and completely the Mila we were wishing for, and the dog she actually wanted and deserved to be. If you have any issues with your fur babies, don't give up on them, call Allison. I promise you that you will get the dog you wanted and your dog will also thank you for doing it!! Thank you again Allison, we would not have made it this far with out you!!!
Danielle C.
Master
Belgian Tervuren
Age: 4 Years
15-Day Board & Train
Let me say that I have trained and shown Belgian Sheepdogs for over 20 years. Due to some negative experiences and a few health issues with myself I was unable to get my current Belgian to feel comfortable in the show ring. I was impressed when I saw Allison walking 3 excellently trained, well behaved Belgian Malinois' at a local park. I saw her business sign on her truck and quickly looked her up.
Since my dog was already obedience trained Allison was able to customize his training to meet his needs. After he spent 15 days with Allison I have seen a big improvement . My dog has increased confidence and is better behaved. While with Allison he received excellent care and training and went on many outings . Allison was able to give him the training he needed to further his career. She stayed in touch sending pics and videos every day.
I am extremely particular about the care of my dog . I highly recommend Marcum K9 obedience. My dog came home a better dog.
Wendy R.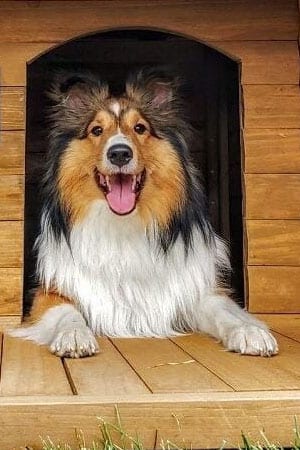 Jack
Shetland Sheepdog
Age: 8 Months
10-Day Board & Train
I took my 8 month Sheltie to Marcum K9 and it was the best decision EVER! He learned so much in 10 days that it is truly unbelievable. Jack now will come when called, stay and place and much more. Libby did an excellent job with him. She taught me the proper commands and we practiced what he had learned the day I picked him up. The training contiunes when your dog comes home but you NOW have the tools to continue what your dog has been trained to do.They will answer your texts or emails during the training and after your dog is home. They send you pictures and videos during the dogs training. They truly love dogs it is so apparent. If you are hesitating DON'T….it is worth every penny. Wonderful and loving people. An A class group of folks!!! A+++++++ 5 STARS!
Patti B.
Kaos
German Shepherd
Age: 1 Year
15-Day Board & Train
I went through a long list of interviews with trainers and facilities and chose to use Marcum K9 Obedience to help my dog with some basic bad behaviors and to help socialize and improve on his confidence. I am so happy I went with this facility because of the family atmosphere and love they give to both the owners and pets they train. The staff was quick to respond and prepared a training plan and expectations are written down along with pictures, videos and daily updates. The staff also extend there willingness to follow up with his training even after he left the facility and are more then willing to help educate and answer any questions that may come up even after the training was completed. My dog now has a better quality of life being able to be social around people and other pets along with being able to come with me to various venues and share in the family fun.
Curtis B.
The Marcum K9 Training Process
Our expert dog trainers in central Ohio will successfully correct behavioral issues such as jumping, leash pulling, setting boundaries, listening, potty training and more.
Schedule a Consultation
During your Consultation, one of our dog trainers will meet with you and your pooch at our in-home training facility in Canal Winchester, Ohio. We'll assess your dog's level of obedience, get to know their behavior and speak with you about your goals.
Create a Program
Every dog is different. Based on your goals and your dog's needs, we'll devise a training plan that will quickly and effectively transform your dog into the well-behaved, attentive, and calm companion you've always wanted.
Dog & Owner Training
Whether you choose board & train, group training, or a private training session, our trainers will treat your dog as if it were their own, and will instruct you on how to use trigger words and how to control your voice to assert your authority.
Maintain Your Training
At the end of the training program, your dog will be a Marcum K9 graduate. How they use their training depends on how well you maintain what we've taught them AND you. If you have any questions or concerns, please contact us anytime.
Reviews from Columbus Area Dog Owners
We love hearing about how our dog training programs have changed our clients' lives.
We love getting feedback from our customers! Reviews on Google and Facebook not only make us feel good about the work we do for your family, but they give other dog owners peace of mind about coming to train with the Marcum K9 team. When you are happy with the strong bond you have with your dog, share that with us by leaving a review!
We work with dogs and families across Central Ohio including Bexley, Grandview, New Albany, Upper Arlington, Worthington, Hilliard, Powell, Pickerington, Canal Winchester, and more! Fill out our inquiry form to schedule your free consultation and to learn more about our training programs.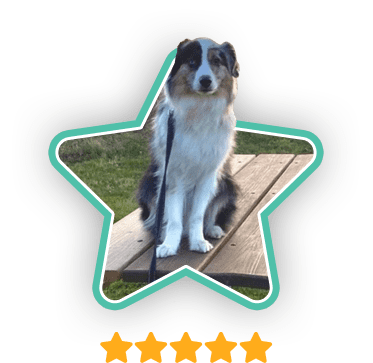 If you're on the fence about Marcum, I hope this review helps you. I was skeptical about board and train because I felt like I had the most stubborn dog on the planet and there was no way anyone could get him to listen. Fast forward to 20 days later and I am in awe at how much Gunner has changed. Sierra and Garrett turned my anxious dog into a confident one! Gunner used to bark at the slightest noise, beg during every meal, counter surfed, had 0 door manners, and pulled me during our walks. He's now the most obedient dog and I can't thank Marcum enough for improving both our quality of life! I appreciate Marcum for giving me daily updates during his training and giving us a packet of activities/homework to do so we can reinforce everything he's learned. Great job Team and Keep up the good work! ☺️
– Gen McCarty